Welcome to Ateljénord, the handicraft shop in the centre of Kiruna. Ateljénord sells work directly from the artist to the public and you will always meet one of us in the shop.
Adress:
Lars Janssonsgatan 23
981 31 Kiruna
Sweden
phone +46 980 179 08
Opening hours:
Monday to Friday 12:00 noon to 6:00 p.m
Saturday 10:00 a.m to 3:00 p.m
Our artist association started as a website/shop in 2000. In the beginning, it was the three of us: Ann-Louice Abrahamsson working with ceramics and water-colour painting, Eva Björnström working with glass and Gunnel Tjäder working with reindeer skin, textiles as well as the decorative painting of furniture and household items.
Lena Gustavsson joined in 2004 with her woodworking, her company is called LG Form

In December 2005, we opened our shop in central Kiruna.
The four of us opened our first crafts shop initially as a Christmas shop, which was only open during December in 2004.
The following year, in December 2005, we opened the shop we have today in central Kiruna.

In January of 2008, at Kiruna's annual gala celebrating local businesses and entrepreneurship, Kirunagalan, the artists of Ateljénord were awarded Företagarnas Samarbetspris, which translates to "The Swedish Federation of Business Owners Award for Successful Cooperation."
The jury's motivation was: "Through cooperation, these companies have succeeded in becoming well-noticed and have therefore increased their sales. Different people with different talents together under one roof. Wonderful models with artistic veins."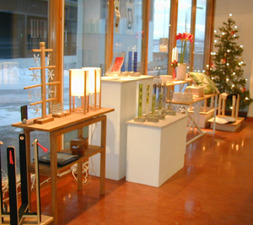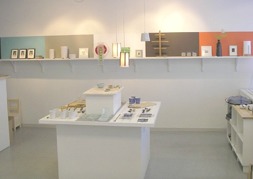 Eva Björnström left our shop in 2008. In May the same year, Rut Orrmalm Olsson from the village of Puoltikasvaara joined the shop. She works with hand-printed and woven textiles. Rut left our shop in May 2011. In October 2008, the group expanded with goldsmith Göran Söderström, who creates jewelry in gold and silver of his own design. Anders Skoglind, blacksmith and cartoonist joined the shop in February 2010. Axes, knives and candlesticks are examples of Anders crafts in the shop.
Lena Lysvret joined our handicraftshop Ateljénord in October 2011. She works with quilting. She left our shop i May 2017 and instead Eva Björnström come back with her glass and enamel again.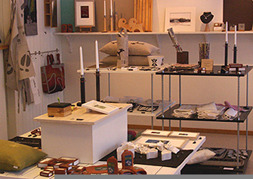 Midnight sun exhibition every summer since 2012
We have had our Midnight sun exhibition every summer since 2012. The exhibition has had different themes each year. 2016 the theme was "Kontrast" (Contrast) . This year's theme was "Hitta hem" (Find Home). The Midnight Sun exhibitions opening times use to be until midnight. We had the exhibition 26-29 June this year, when the sun is over the horizon all night long.