Ateljénord craft shop is in the centre of Kiruna. We offer you the perfect gift from Kiruna. You can place special orders on the spot from the artisans, or just come in and let yourself be inspired by our creations. Here you can find art and ceramics by Ann-Louice Abrahamsson, enamels and glass handicraft by Eva Björnström, woodcraft by Lena Gustavsson, wrought iron by Anders Skoglind, gold and silver jewellery by Göran Söderström and handicraft in wool and reindeer leather by Gunnel Tjäder, who also paints folk art. Welcome.
Monday to Friday 12:00 noon to 18:00
Saturday 10:00 to 15:00
Lars Janssonsgatan 23
981 31 Kiruna
Sweden
phone +46 980 179 08
Together we reduce the spread of
the Corona virus
We keep our distance
Stay home when we are sick
Wash our hands
Maximum 4 people in our shop Ateljénord
Ateljénord.com was started in the year 2000 as a website for three artisans: Ann-Louice Abrahamsson, ceramicist and artist, Eva Björnström glass artisan and Gunnel Tjäder, folk art painter and worker in textiles/reindeer leather. In 2004, Lena Gustavsson, joiner, became a member.

The same year, the first shared handicraft sales point opened its doors. It was a Christmas venture, open only that December. A smash hit!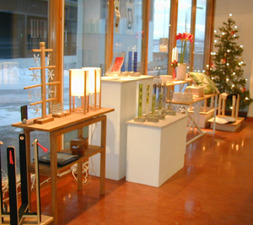 Today's craft shop Ateljénord in the centre of Kiruna opened in December 2005.
"The business idea is through a shared shop to sell and market both unique and batch produced handicraft, art handicraft, and art. In the shop you will always meet one of the creating artisans. Handicraft, art handicraft and art - everything is made or designed by one of the respective enterprises. We maintain the highest quality in both craftsmanship and design. The entrepreneurs operate in or near Kiruna council district."

At the Kiruna business gala on 25 January 2008, the crafters at Ateljénord won the Entrepreneurial Cooperation Award.
The jury wrote: "Through cooperation, these companies have raised their profile and in that way increased sales; different individuals, different talents grouped under one roof. Four role models with an artistic streak".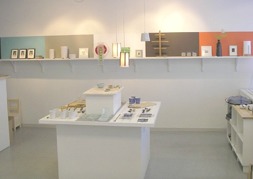 Artisans quit, start and make a comeback at Ateljénord
Eva Björnström left the shop in spring 2008. Rut Orrmalm Olsson, producer of textile handicraft, started at the shop in May 2008 and left the shop three years later. Göran Söderström, goldsmith from Lannavaara, joined us in October 2008, and Anders Skoglind started at the shop in February 2010. He is a blacksmith and cartoonist. Lena Lysvret started at the shop on 1 October 2011. She produces textile handicraft using quilt and patch technique. Lena left us in May 2017, and is moving back to her home region, Kinna. Eva Björnström is completing the circle by making a comeback at the shop.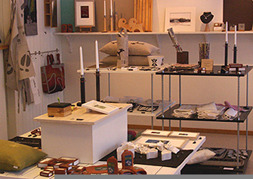 Midnight Sun exhibition every summer since 2012
"You who have the Midnight Sun must absolutely put on a Midnight Sun exhibition," said Maud Åhn, county arts and crafts consultant. After ruminating for a few years we seized the opportunity, and since 2012 our Midnight Sun exhibition in the shop has been a recurring feature in the warmup party before Kiruna Festival.
Our opening times during the exhibition days have been from 12 noon to 12 midnight. "Midnight Sun", "Recycling", "Variation", "Time", "Contrast", "Getting Home", "Texture"– these are different themes we have featured at our exhibitions. In 2019 our theme was " Roots" .
Here are some pictures from our Midnight Sun exhibitions >>